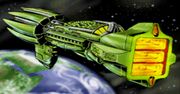 Alien Ship is the fourth area (episode) of Duke Nukem Advance, and consists of 7 levels, including escape.
Description
Edit
Alien Ship is the HQ of the group of Duke's archenemy alien race. Duke arrives there to crush the aliens and save Jenny's clones. The aliens are controlled by Alien Lord, whom Duke has to face.
Ad blocker interference detected!
Wikia is a free-to-use site that makes money from advertising. We have a modified experience for viewers using ad blockers

Wikia is not accessible if you've made further modifications. Remove the custom ad blocker rule(s) and the page will load as expected.