Sob-bot is program which simulates dukematch for Duke Nukem 3D. Sob-bot adds "bots" to simulate deathmatch. There are two versions of Sob-Bot, for Duke Nukem 3D and for Duke Nukem 3D Atomic Edition.The bot is treated like a "monster" so this means that the bots will not attack each other and only attack player dukes. The bot can use the Pistol, the Shotgun, the Shrinker and Expander, the RPG, and the Chaingun. You can customize the bot's health, speed, whether it can fly or not, dodge, and if it can use the medical kit. The DOS versions can still be found today, but the Win32 launcher is a little harder to find. It can run on user maps as long as it can be run on the DOS version. You can use SOB-BOT online as well to play with friends. SOB-BOT was programmed by Joris Weimar and Syndey Linkers.
Gameplay of the bot in action can be seen here
http://www.dukertcm.com/knowledge-base/downloads-rtcm/duke3d-cons/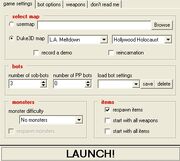 Ad blocker interference detected!
Wikia is a free-to-use site that makes money from advertising. We have a modified experience for viewers using ad blockers

Wikia is not accessible if you've made further modifications. Remove the custom ad blocker rule(s) and the page will load as expected.