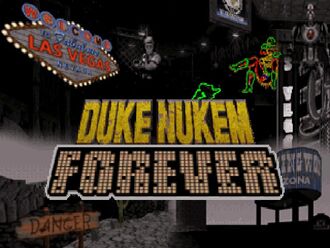 Duke Nukem Forever is a partial conversion mod for Duke Nukem 3D: Atomic Edition that uses the EDuke32 source port. It was released on April 29th, 2013. The mod is based on early versions of the Duke Nukem Forever game by 3D Realms. The mod features a new episode with new weapons, new graphics, new sound effects, new music, new enemies such as Terminator robots, a new boss, and a new ending. Many parts of the mod are inspired by the 3D Realms 2001 Duke Nukem Forever trailer.
An updated version of the Duke Nukem Forever mod was released on November 22nd, 2013; this updated version contains a new episode with three new levels, new music, and a new sprite for the shotgun. The updated version requires the original Duke Nukem Forever mod files to work.
Episode 1: Forever
Edit
Episode 2: Community DLC
Edit
Ready For Action
Born To Be Wild
Time To Kick Ass
(The Community DLC episode is only available in the updated version.)
Ad blocker interference detected!
Wikia is a free-to-use site that makes money from advertising. We have a modified experience for viewers using ad blockers

Wikia is not accessible if you've made further modifications. Remove the custom ad blocker rule(s) and the page will load as expected.