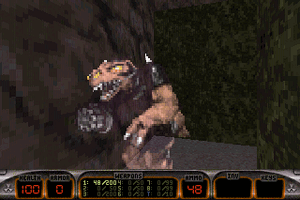 The Ghost Enforcer is one of the exclusive enemies featured in the Playstation port of Duke Nukem 3D, Duke Nukem: Total Meltdown. Along the Zombie Pig Cop, they appear only in level Gates Motel.
Much like the Underwater Drone there are a few of them: only eleven on the higher difficulty level. Four of these are fought on the labyrinth garden, and the remaining six on the cellar of the mansion.
They are identical in every respect to the standard Enforcer, except for it's semi-transparent nature. When a Ghost Enforcer is killed, his dead corpse return to the normal transparency.