The King Cobra (also known as the Mechanized Cobra), along with the Gorilla Captain is one of two new enemies in the Duke Nukem 3D, Duke Xtreme expansion.
Description
Edit
A NEW monster. The cobra is a wily snake that will hunt and spit venom until you or he is dead! Watch out, don't use your knee (or knife), you may be bitten. - Duke Xtreme description
It's basically a large red and yellow cobra with a white head. It has four radiation symbols; the front and back of it have two each.
Like all the optional choices in Duke Xtreme, it will only appear in the game if the player enables the option for it.
Combat Analysis
Edit
Its primary method of attack is shooting lasers at the player and it will also spit venom and bite them if they get too close; the spit attack is very similar to the Enforcers. It takes slightly more punishment than the Pig Cop and Enforcer; according to its profile on the Duke Xtreme add on's menu it has twice as much health as them.
Weapon effectivenesses

Mighty Foot

10 kicks
Pistol

17 shots
Shotgun

2 shots
Chaingun Cannon

12 shots
RPG

1 rocket
Pipebomb

1 pipebomb
Shrinker

Not effective
Microwave Expander

7 shots
Note: The values given for the Shotgun and the explosive weapons are minimum values only.
The King Cobra uses the same sound files as the Enforcer when taking damage, etc.
It is a counterparts to the Pinky demon and Spectre from Doom.
Screenshots
Edit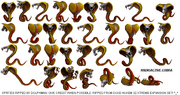 Ad blocker interference detected!
Wikia is a free-to-use site that makes money from advertising. We have a modified experience for viewers using ad blockers

Wikia is not accessible if you've made further modifications. Remove the custom ad blocker rule(s) and the page will load as expected.