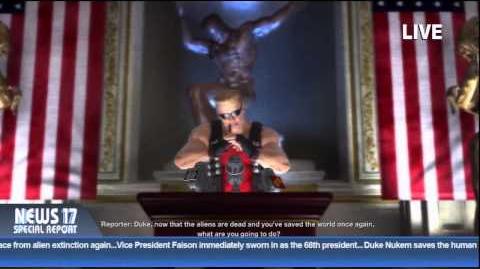 The
Press Conference
is the epilogue of
Duke Nukem Forever
that takes place after
Duke Nukem
kills the new
Cycloid Emperor
and survives a nuclear strike on the Hoover Dam ordered by the now-deceased US
President
.
Description
Edit
What follows is a transcript from the cinematic:
Reporter: "Duke, now that the aliens are dead and you've saved the world once again, what are you going to do?"
Duke: "I'm gonna run for President." "Hail to the King, baby."
The Duke Nukem Forever DLC takes place immediately after this press conference, where it is shown on recorded footage that an unsuspecting Duke was knocked unconscious upon exiting the conference room and brought to Area 51; an impostor Dukeinator took his place.
Ad blocker interference detected!
Wikia is a free-to-use site that makes money from advertising. We have a modified experience for viewers using ad blockers

Wikia is not accessible if you've made further modifications. Remove the custom ad blocker rule(s) and the page will load as expected.